Have you collected all the words for the secret phrase and ready for your chance to win a Kindle Fire?
Fantastic!
Now just scroll down (below the Hex Boys hot pictures) for details on how to enter it and collect up to 35 points!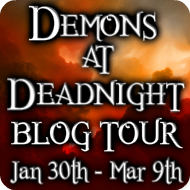 All the Tour Dates and Links are at the bottom of this post. The HTML for the button and banners you can choose from are available on this page.
To get the HTML for these Team Buttons, go the The HEX BOY Page!
Ready for your chance at a Kindle Fire?!
Tour Dates
January 30th - March 9th